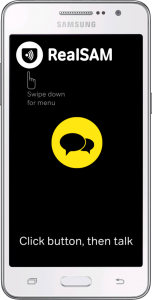 RealSAM has the world's easiest to use interface. Simply talk to it "Hello RealSAM".  Its clever software that provides a voice interface to applications specific for people with sight loss, installed on a Samsung Phone.  A connected device, RealSAM is regularly updated with new features so it just keeps getting better!.
Reducing Isloation
If you are looking to stay connected whilst suffering sight loss.  Just Say…
"Call ..." to make a phone call.
"Send a Message to ...." to send a a text message.
"Add a contact..." to add a contact either from scratch, or from a call you have received.
You can also press the Emergency Assistance button to get help1.
RealSAM also comes connected to an accessible web interface, that allows users to edit contacts and upload them in bulk2.
Improving Quality of Life
If you are looking for entertainment or news, Just Say…
"Read me a Book" to gain access to over `100,000 audio books bundeled into Realsam, including new releases.
"Read me a Newspaper" to gain acess to hundreds of talking newspapers, Local, National and International.
"Read me a Magazine" to gain access to online magazines,
"Play me a Podcast" to gain access to podcasts, TED Talks and more.
"Listen to the Radio" to gain access to hundreds of internet radio stations, from Sport, to Talk Radio, to Classical Music.
Supporting Independent Living
If you require assistance to maintain independent living, Just Say…
"Whats the Time in ..." To find out the time in any city in the world.
"Where am I?" To find our where you are, by street address, the closest crossroads and what's around you.
"Whats the Weather in ..." To get a weather forecast for any city in the world, today and tomorrow.
"Remind me in 1 minute to..." To get a smart reminder that tells you what the reminder is for!
or
"Be My Eyes" to access vision support.  Be My Eyes connect the devices camera, speaker and microphone to one of over 1.8M  volunteers globally, to help you with tasksfrom sorting socks to determining the time of an appointment in a letter.
1 Emergency Assistance requires a valid network connection via SIM card or WIFI, and one to three contacts on RealSAM prefixed with "Assistance".
2 RealSAM users can gain their web portal login details at any time, by asking RealSAM "Whats my Portal Login?".